September 20th, 2007 (05:54 pm)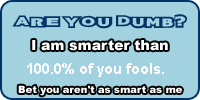 Am-I-Dumb.com - Are you dumb?

I'm glad my magic ability of only reading a couple random words out of questions allows me to still make the correct split second decision. Now if only I had actually read all of each problem back when I took the SATs Diva wouldn't have that damnable 10 point lead to hold over my head (eh, but verbal scores are useless anyway; It's all about the math).